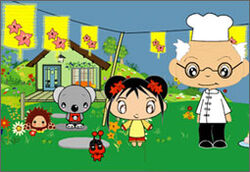 Before Ni Hao Kai-Lan aired, there was a Nick Jr. Presents My World show called Downward Doghouse. This is what everyone looked like:
Kai-Lan wore a long yellow dress. Her eyes were a little bigger. Her arms and legs were shorter. She had no flowers in her hair. She is 3.
Tolee wore a t-shirt with a panda on it and he had thinner panda slippers.
Hoho stayed the same. He could talk, but he could only speak gibberish.
There was no Rintoo or Lulu, though an early version of Lulu appeared in one short: "Dragon Dance". Due to this, the short series takes place 3 years before the main show.