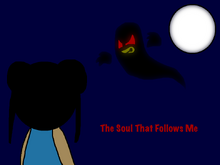 The Soul That Follows Me is a feature film for the show's third season that aired on October 31, 2017.
Synopsis
Kai-Lan has experiences nightmares in which her friends blame her for emotionally hurting a "friend" from the past. Kai-Lan feels there is a deeper meaning for her nightmares but didn't want to mention it to Phantabus. Instead, she goes to look for answers of her strange dreams and the evil spirit that haunts her.
Development
Development began during Season Three. The film was meant to be the show's feature film for Season Four, but moved to Season Three instead.
Production
The film's script begun during the same time it was developed. It originally was going to have the humanoids (Whitetail, Giggles, Downpour, Inferno, Yucky, and Whimper) as the main characters, but is changed for no known reasons.
Trivia
Second film of the series.
Based off of a Mlpstopmotion series.
The film has no songs.
This film aired on Halloween of 2017.
The fire that was set off on Gothling Lagoon in the episode "Land Of The Sea" has been mentioned a lot. It is heavily implied the four main Gothlings (Darkling, Lynn, Butch, Clancy) and a few others did not survive it.
Featured character: Lily
Script